Christmas Markets in Tuscany
24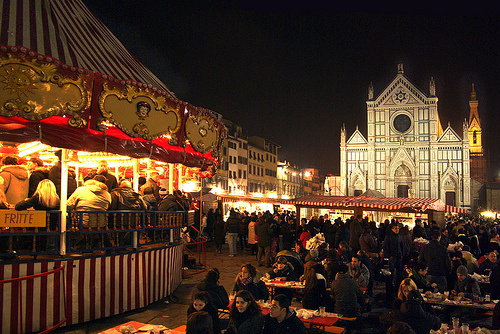 If you're going to be spending Christmas in Tuscany, then you'll definitely be spoilt for choice when it comes to festive fun and activities. There are a whole host of Christmas events and celebrations to take part in, one of the more notable events being the Tuscan Christmas market. There are many of these that take place every year, all over the region, so wherever your Tuscany holiday villa is based, you're bound to find a market near you!
These traditional markets are home to all sorts of stalls, selling traditional gifts and decorations. You can also witness Christmas nativities (both inanimate and animate!) and pick up some traditional Christmas food, from around the start of December right up until the first week of January.
Perhaps one of the best places to visit a festive market is in the beautiful city of Florence. The Florence Christmas Markets are very popular, especially the German Christmas market, held in the Piazza Santa Croce. Here, you can discover a whole host of German and Italian hand-made goodies, toys and treats. Another great Christmas market can be found at Stazione Leopolda, where there's a great selection of Christmas gifts and crafts.
But Florence isn't the only place to experience a great Christmas in Tuscany.
From December 8th until January 6th, you can visit the Christmas market in Piazza Matteotti, in the beautiful city of Siena. It's open from 8am until 8pm, and you can get your hands on Christmas cakes, books, gifts and hand-made jewellery. There is also a special Christmas market which takes place in Arezzo, from December the first until the 6th of January. There are a number of exhibitors selling gift ideas, art, crafts and of course, food! You can find this market in the Piazza Risorgimento and Piazza San Jacopo.
On weekends throughout the month of December, there are several Christmas markets in the picturesque Mugello region, a few kilometres north of Florence. What better place to experience a little bit of Christmas cheer, than in this area of stunning natural beauty? The communes of Marradi, Barberino di Mugello, Dicomano and Palazzuolo sul Senio all hold a Christmas market, and the latter also has an event called the 1000 cribs of Palazzuolo, which is dedicated to the most beautiful nativity scenes.
So, if you're lucky enough to have some of your Christmas in Tuscany, make sure you take a trip to one (or several!) of these markets. Whether you're on the lookout for some Christmas gifts, want to pick up a nice souvenir of your Tuscany trip, or just want to sample some delicious Italian festive food, the Tuscany Christmas markets are well worth a visit.