Experience Peace and Tranquility in the Orcia Valley
01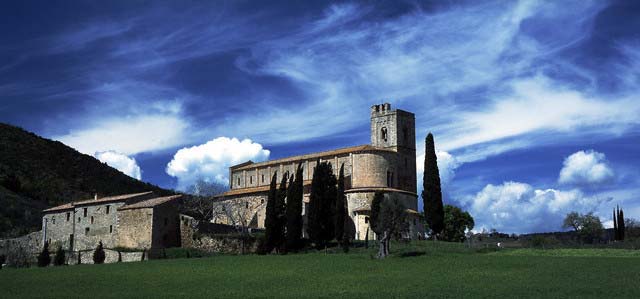 Extending southwards from the hills of Sienna to Monte Amiata, lies the beautiful and unspoilt region of Val d'Orcia, or the Orcia Valley, named after the river which flows through it. Characterised by gentle, rolling hills, kilometres of vineyards and olive groves dotted with small, quaint towns and hamlets, this region is loved by many. So, what better way to relax and experience a wonderful villa in Siena and surroundings, than in the stunning Val d'Orcia?
Settlements in the Val d'Orcia date back to prehistoric and Etruscan times, and the region experienced further development during the Roman empire. During the 10th and 11th centuries, a number of monasteries were established, and merchants from nearby Siena turned the landscape into productive farmland. The Val d'Orcia truly is an oasis of nature and culture, and so much so, that it was named a UNESCO World Heritage Site in 2004.
There are many charming places to visit, such as the medieval town of Campiglia d'Orcia, which is known as being the valley's main historical centre. Another noteworthy settlement is Montalcino, perched on a hilltop and known both for its association with the arts and of course, for its famous Brunello di Montalcino wine. There are many wine tours available in this area, so why not try some authentic Brunello for yourself?
In a picture perfect setting, just south of Montalcino and in the Starcia Valley, you'll come across one of the most beautiful Romanesque religious buildings in Tuscany. Looming grandly among the surrounding countryside, the Abbazia di Sant'Antimo (or Abbey of Sant'Antimo) is a wonderful sight. It is said that the origins of the abbey date right back to 781, but it was broadened to its present scale in the 12th century. It was always used for religious purposes, and over time, developed into a very powerful Benedictine centre. Although it lost a lot of land during the middle ages, it continues to be an active monastery even today. The monks, who live nearby, chant here 5 or 6 times a day, a do so for about 12 minutes at a time. You are welcome to listen to their chanting and enjoy the tranquil atmosphere, but when inside the abbey itself, visitors must remain silent.
We have a large selection of villa holidays in Tuscany on offer, and with one of our beautiful Val d'Orcia villa rentals, you will find yourself in the midst of this incredible region, surrounded by the distinctive aesthetics of the countryside and beautiful sights such as the Abbey of Sant'Antimo. In other words, it's definitely the perfect place to relax, explore the region's history, and really get back to nature.