A very special Valentine's day in Tuscany
25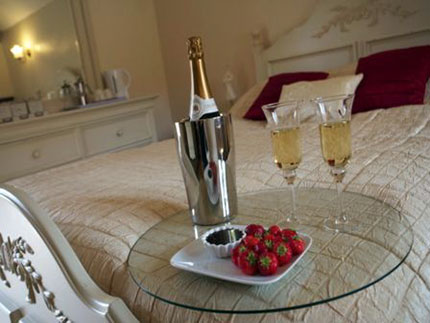 Unsure about what to do for Valentine's Day in 2013? It's fairly likely that you have already done the usual chocolates and flowers thing. But why not make this year a bit different, and whisk your loved one away to a gorgeous private villa in Tuscany?
Tuscany is renowned for being one of the most beautiful, and indeed romantic regions in Italy. And with its picturesque countryside of rolling hills, quaint little villages and numerous vineyards, it's easy to see why. So this Valentine's day, visit one of our Tuscany private villas with pool, and spend some quality time with your loved one.
There's no shortage of things to do in Tuscany on Valentine's day. If simplicity suits your tastes, then perhaps just take a lovely, romantic stroll. Try La Piagge: a peaceful park right outside Pisa, which stretches along the river Arno. Or perhaps head down to the Maremma region to explore the beautiful coast (yes, even in Winter!) or wander through the charming nature parks.
Aside from love itself, food is also one of the Italian people's great loves! Why not take part in an Italian cooking class, and learn lots of traditional cooking methods from Italian locals? Or, perhaps fit in a wine tour and tasting session too. Visit Tuscany Wine Tasting for a great selection of classes and wine tasting sessions. Don't forget to take home a nice bottle to share too!
If you're looking for a romantic culinary experience that doesn't involve preparing the food yourself, then you'll be spolit for choice here in Tuscany. With many charming locations serving tasty, locally sourced ingredients, you'll have no trouble finding something perfect for you and your loved one. But don't forget to book, because on il giorno degli innamorati (the day of lovers) those loved up Italians will be trying to get the best seats! Why not try Cantina Barbagianni in Florence, with its cosy atmosphere and great homemade dishes? Or perhaps Orto de Pecci in Siena, which used to be a farmhouse but has now been converted into a traditional restaurant, with its very own fireplace to snuggle up in front of.
Or why not take yourself and your partner off to one of the many luxury spas in Tuscany? There are many to choose from, and most of them offer great day packages, including various relaxing treatments. Head to Petriolo or Saturnia to feel the benefit of the famous therapeutic waters, or to beautiful Florence, where you can pay a visit to the Soul Space or Body Care spas for a relaxing massage.
Or, if you prefer, you can just spend the day and evening in your private Tuscany villa. There's maximum relaxation to be had in our comfortable villas! Prepare a meal together with local, fresh ingredients, or spend the evening simply looking up at the stars. You'll realize that beautiful Tuscany really is one of the most romantic places!