Relax and unwind in Tuscan mineral baths
10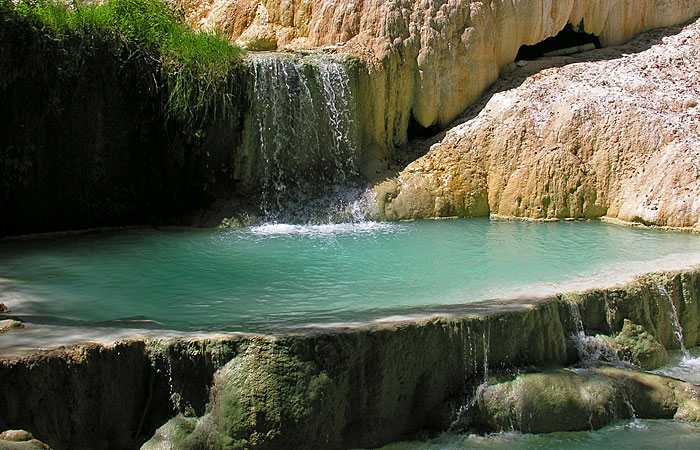 Italians are known for their relaxed pace of life and they like nothing better than to kick back, relax and free themselves of the worries of the day. Whilst at one of our villas in Tuscany, you can also adopt this slow pace of life, and indulge in a relaxing spa day. There are many mineral baths in Tuscany, Italy, and so you are seriously spoilt for choice when it comes to deciding on the perfect luxury spa.
Tuscany's thermal spas are dotted all over the region, and include not only the elegant and inviting spa centres, but there are also lots of natural thermal baths, many which have been used since Roman times, and are known for their healing properties. Therefore a dip in one of these natural springs can benefit not only your mind, but also your body, as the therapeutic waters can relieve skin, digestive and respiratory conditions.
If you want to try out one of these natural thermal springs, you have plenty of options. There's no price tag as these natural waters are all free to use, but don't be led to believe that they are any less luxurious. Taking a dip in the Saturnia spring , located in the Maremma region, you will feel all of your worries just slipping away.
Here, you can bathe near a beautiful waterful, and enjoy the sensation that the water has on your skin. The Vignoni baths are located on a hill, above Val D'Orcia, and there's the opportunity to bathe for free in the Parco dei Mulini, as well as a host of luxury spas nearby. Other outdoor mineral baths in Tuscany include the Bagni di San Filippo, which has been used since the middle ages and is a great source of natural mud, and the Bagni di Pietriolo near Monticiano. These waters are a lovely 43°C, and were used by the famous Medici family.
These luxurious indoor thermal spas in Tuscany are also definitely worth a look. The stunning city of Florence is home a couple of excellent spas, both with enticing day packages. Try Soul Space in the Palazzo Galletti, located in the heart of ancient Florence. This spa offers a soft, elegant and sensual atmosphere, perfect for a spot of rest and relaxation. The Body Care day spa in Via Santa Caterina d'Alessandria offers a host of treatments for face and body, as well as many types of massage, including hot stone and Shiatsu. This is a super stylish place, with over 50 beauticians ready to spoil you.
Outside of Florence, the Venturina Spa offers all your favourite spa treatments in lots of little wooden cabins. Whether you want a mud treatment, a massage or fancy jumping into a relaxing Jacuzzi, this spa is perfect for unwinding. In the south of Tuscany, the Chianciano health spa is home to wonderful, therapeutic waters, and has many water and mud treatments available.
So, are you longing for a well-deserved spa day? These mineral baths in Tuscany, Italy are just perfect for some rest and relaxation. And when you've finished, you can head back to you villa to relax a bit more. We have many Tuscany countryside accommodation with pools, so you could even top it all off with (another!) relaxing dip!