check availability & price:
Search

Would you like more information about this property?

Contact
us now

FARMHOUSE LE MACCHIE ACCOMODATION

LECCINO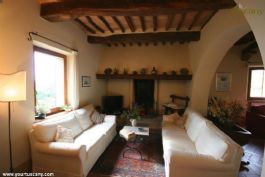 TYPE:
Apartment
BEDS:
7
BATHS:
3
SLEEPS:
FROM 2 TO 7 guests

View PHOTOS

The ground floor is made up of a large living room featuring an original stone fireplace where is possible to sit, television with DVD player, radio/CD stereo; a small bathroom, a dining room and a fully equipped kitchen with stove, oven and dishwasher. The dining room has a beautiful arched window with French doors that open onto a charming courtyard.

Upstairs, there are three spacious and comfortable bedrooms facing Mount Amiata and the "calanchi d'argilla" (coves), furnished with wrought-iron light fixtures and beds as well as antique furniture, there are 2 bathrooms. Outside there is a private and fully restored courtyard with a table, chairs, umbrella and barbecue is the ideal setting for alfresco meals.

MORAIOLO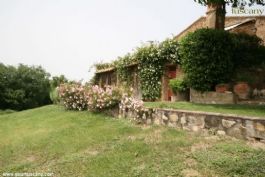 TYPE:
Apartment
BEDS:
2
BATHS:
1
SLEEPS:
FROM 1 TO 2 guests

View PHOTOS

Surrounded by oak trees, secluded and very private, Moraiolo is a romantic studio apartment for 2 people. The French doors open onto a small terrace, which has sweeping views across the valley to Monte Amiata and is furnished for dining alfresco. It has a living/dining area with a well equipped built-in-kitchen, television and radio/CD stereo. There is a marble bathroom with shower, and the sleeping area is lofted.

Outiside: The terrace in front of the house is accented with climbing roses and lavender. There is a table, chairs, umbrella and barbecue for your alfresco meals. Facing southwest, guests will forever remember the spectacular landscape, especially breathtaking at sunset.

ORIOLO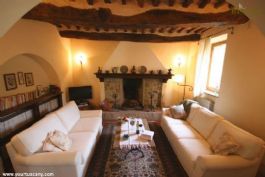 TYPE:
Apartment
BEDS:
7
BATHS:
3
SLEEPS:
FROM 2 TO 7 guests

View PHOTOS

The ground floor consists of a spacious entrance that leads to a large open plan living room with an original stone fireplace, television with DVD player, radio/CD stereo. To the left is the dining room and fully equipped kitchen with stove, oven and dishwasher. There is also a half bathroom downstairs.

Upstairs features a glassed-in portico with a breathtaking view of the wheat fields and olive groves and a comfortable sofa for reading or relaxing. The three spacious and comfortable bedrooms (2 doubles and 1 twin bedded room) each have sweeping views of Mount Amiata and are furnished with wrought-iron lamps and beds and antique furniture.

The marble bathroom with tub and shower is located on the same floor. The other bathroom is en-suite, connected to one of the bedrooms (please note that this bathroom's shower is located up five steep and narrow steps and is not suitable for the elderly or disabled). Outside The garden just in front of the house is furnished with a table, chairs and barbecue for alfresco meals overlooking the Valley.

In the heart of the Val d'Orcia National Park and the Natural Reserve of Lucciola Bella, on a natural terrace overlooking Mount Amiata, the Farmhouse Le Macchie assures contact with nature in a protected and uncontaminated oasis. The view of the rolling hillside is unique and varies constantly with the passing of sunlight and the changing of the seasons.

Le Macchie's central location makes it the perfect accommodation for your holiday home in Tuscany. Located just southeast of Siena, the estate is ideally situated for day trips to Florence, Siena, Assisi, Perugia, and Pisa. You may also choose to discover the highlights of the spectacular Orcia Valley with its wealth of medieval villages, including Pienza, Montalcino, Bagno Vignoni, and Monticchiello.

The estate of Le Macchie has produced olive oil for many generations, and for years has fervently dedicated itself to the cultivation of olives with the utmost environmental respect. Each apartments has been fully modernized and restored, cozy atmosphere encompassing an intricate brickwork floor, the restored wooden beams and the great original stone fireplace is a testimony to the past and a warm welcome for each of its guests.

Swimming pool measures 6 x 12 metres and it's open June through September

What our guests say
Farmhouse Le Macchie
|
Luca Cassia
|

|
5





Beautiful property!
Farmhouse Le Macchie
|
Judy & Martin Z. (Toronto - Canada)
|

|
5





We enjoyed our stay very much. We would be happy to recommend Le Macchie to friends in the future.
Farmhouse Le Macchie
|
Wilfred D. (Courtenay - Canada)
|

|
5





Hi Cinzia, Our stay at Le Macchie was absolutely wonderful. It's the most beautiful place we have ever stayed at. The dinner on June 1 was very good and we very much enjoyed talking to the chef and his helper. The weather was great and the swimming pool was a great hit. Also a very big thank you to Gianmario, he was very friendly and always helpful. All six of us had a really great time - it was certainly a venue worthy of the significant birthdays we celebrated. Thank you again, and maybe some other year we may be back.
Farmhouse Le Macchie
|
BB (London - UK)
|

|
4





Hi Cinzia, We had a fantastic stay at le Macchie. It was all just perfect and we would love to come back again!
Farmhouse Le Macchie
|
David & Melissa (Canada)
|

|
4





Dear Cinzia and Andrea, My wife and I want to thank you once again for the wonderful week at Le Macchie. As previous guests we knew exactly the quality accommodations and beautiful setting that was awaiting us – and we were not disappointed in the least. We look forward to future visits to Italy and we'll be sure to contact you for your assistance. In addition, I am doing all I can to recommend Le Macchie to friends in Ottawa as an ideal vacation retreat in Tuscany, All the best, David and Melissa Ottawa, Canada
Farmhouse Le Macchie
|
Laura
|

|
4





Hi Cinzia We had a great holiday thank you. I found the website, booking procedure and online support excellent. Our accomodation was lovely - very secluded and nicely furnished - overall we felt it was good value for money. I would certainly reccommend both Your Tuscany and Villa Colombaiolo to others.
Farmhouse Le Macchie
|
Pat - USA
|

|
4





Hi Cinzia, We have been settling back in from our travels, so I apologize for just now getting around to writing you about our experience in the Oriolo apartment at Le Macchie. First, I'd like to thank you very much for the wonderful assistance you gave us in planning the trip. Your prompt and helpful replies were of great assistance to us in planning the trip. It was a pleasure working with you, and I hope we have the opportunity to do so again. We enjoyed our stay at Le Macchie very much. It is a very charming and special place. Our stay was perhaps made a little more special by the fact that we were the only guests staying there for the week. Our kids enjoyed the pool and grounds very much, and it was a nice break from our touring in Rome to have such a beautiful place in the country all to ourselves. We also enjoyed meeting Mr. Gianmario. He does a wonderful job of tending to the grounds of Le Macchie, which are immaculate and very beautiful. He was very kind and helpful when we had questions or needed help. Signora Daisie was also very sweet and kind. We enjoyed the meal she cooked for us. All in all, we had a wonderful stay and would definitely consider a return visit to Le Macchie or perhaps another of your properties in the future. Thanks again for all your help.
Farmhouse Le Macchie
|
Dave
|

|
5





Our group of six had a positively wonderful time. The drive up from Rome took us through some lovely scenery and views. No trouble finding La Macchie and the views were everyhing promised. The accomdation was large, well equipped and comfortable. We did our shopping mostly in Pienza and had a lot of memorable meals cooking in. Just a short drive to Montecciello with it's panoramic views and the fabulous restaurant La Porta. Most of southern Tuscany is easy day trips by car, you have to love the winding roads! We did trips to Siena, chianti and San Giamignano as well as the closer towns. The weather was a little cool so we didn't get to spend much time at the pool, though it looked great. Would highly recommend La Macchie as a central spot for travel in southern Tuscany that also gives you lovely accomodation, beautiful vistas and a quiet place in the country.
Farmhouse Le Macchie
|
Ernie Hutchins - USA
|

|
4





We had a great stay at Le Macchie. So quite and peaceful. The weather was perfect the whole holiday. We particularly enjoyed Monticchiello and Pienzia. We did cook about half the time at the villa, but also enjoyed the local restaurants. La Porta in Monticchiello was our favorite. We ate there twice. We also spent time in Lucca, Siena, Florence, and Rome. The countryside was the best. Thank you for all of your help. We will be back.
Farmhouse Le Macchie
|
Linda Jones - USA
|

|
5





Steve and I want to thank you again for the lovely week that we had in Oriolo, at Le Macchie. The setting was stunning – one of the loveliest spots in south Tuscany. And the house was very comfortable for us. Thank you again, and we hope to return to this special place. Linda Jones
Farmhouse Le Macchie
|
David - Usa
|

|
5





Dear Andrea, i just wanted to drop you a very quick note to say how much Alice and I enjoyed your help. Your tuscany site is great and we will certainly contact you for our next holiday.
Farmhouse Le Macchie
|
Thomas - Austria
|

|
4





We are extremely demanding when selecting our holiday destinations. That's why my fiancée and I became truly desparate when trying to find via internet the most beautiful, the absolutely special, the perfectly romantic and the most tastefully designed
Farmhouse Le Macchie
|
Cate - London
|

|
5





Wonderful web site, wonderful Tuscany, thanks for all the great info and for making my first visit to Tuscany a memorable one.